DO IT YOURSELF PLANS: BACKHOES, FRONT-END LOADERS & LOG SPLITTERS
MICRO HOE DIGGING
Here I am back in 2008 digging eight 5-foot deep holes for some 24-by-24-inch "bigfoot" post bases and 10-inch sono tubes that will become the foundation for a new 20-by-30-foot workshop. The Micro Hoe plans currently include the original 350-pound backhoe that can dig up to 5.5 feet deep for garden tractors, and I am also including a page that shows how the crowd arm can be lengthened 12 inches for a digging depth of 6.5 feet. this includes increased leverage required for the longer arm and a 2-inch longer crowd arm cylinder.
The extend-a-hoe prototype you see in this video is able to dig about 7 to 7.5 feet. deep or so (for compact tractors) and weighs about 425 pounds. The extend cylinder runs off a foot controlled single spool valve (under my right foot) via the power beyond port on the main backhoe controls. The extend-a-hoe option requires a fair amount of work (and cost) to add the additional 20-inch reach above stock, which is why most folks end up simply creating a 12-inch longer single piece crowd arm with thicker wall than the stock unit for larger tractors that can take the additional weight.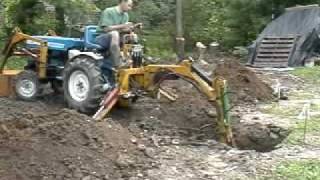 Click to watch the video
Some customers projects using plans from P.F. Engineering
New! P.F. Engineering "Dual-Split" Log Splitter Plans
The P.F. Engineering "Dual-Split" Log Splitter Plans are now available for $40 with Free Shipping WITHIN the U.S. and $45 OUTSIDE the U.S.
Video and Specifications are on our Log Splitter page.
Log Splitter